David is focused on being your Florida Real Estate Consultant for all real estate matters in Florida. As a real estate consultant, he will not let location be an initial factor in determining whether to evaluate your real estate situation.
David is currently located in Palm Bay, a city in Brevard County, which is part of East Central Florida. David can help with almost any situation in the State of Florida. As a resident and tourist, David has visited many cities in Florida. David's office, LoKation Real Estate, has locations throughout Central and South Florida. This gives him access to a large network of fellow agents, team members, and office space throughout Florida. David also works with other agents and service providers (if needed) to ensure that you receive the best service possible at a quality price.
A key factor in David's ability to serve clients throughout Florida is his usage of technology to research areas and enhance services. By leveraging technology, David can find out what you need to know about real estate in specific locations.
Mobile
As a travel enthusiast, David is very mobile and can drive to many locations throughout Central and South Florida. In fact, most major cities and metro areas in Central and South Florida are within a 3 hour drive or 200 miles from David's location. Some areas to the Southwest (Naples) are actually a little over a 3 hour drive.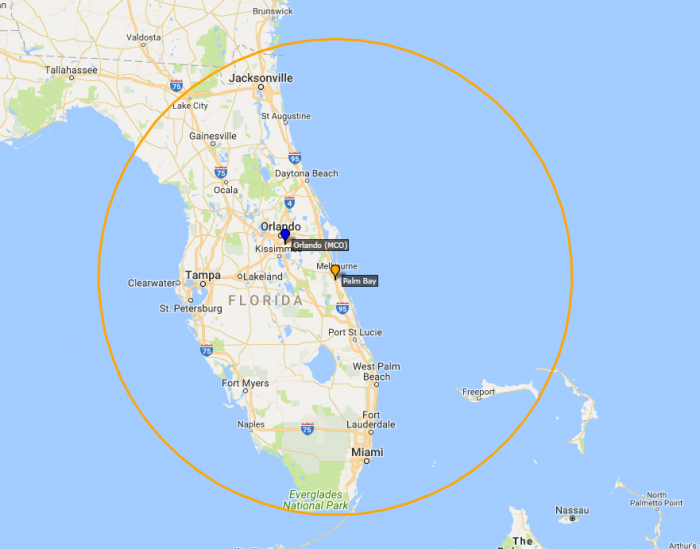 Map showing a 200 mile radius circle from Palm Bay, Florida. Above map from GPS Visualizer and Google Maps.
Long-Term Real Estate Consultant
David operates as a consultant in real estate, instead of only in a sales position. As a consultant, David looks to find solutions for your situation. It also initially costs nothing to have David be your Florida Real Estate Consultant, as he only gets paid when he closes a deal for you. For example, if you are purchasing a home, the selling party pays the commission. David does not have any upfront fees to act as your real estate consultant. David looks to be your long-term real estate consultant by providing outstanding service and strategic solutions.
Focus Areas
Even though David can help anyone who needs Florida real estate services, David does focus on the following areas:
Central Florida & North Florida
Brevard County: (Palm Bay, Melbourne, West Melbourne, Cocoa, Indialantic, Melbourne Beach, and more)
Oceola County: (Celebration, Kissimmee, and more)
Orange County: (Orlando, Lake Nona Area, Golden Oak, and more)
Volusia County (Daytona Beach)
Flagler County
South Florida
Indian River County: (Vero Beach, Sebastian, and Fellsmere)
Saint Lucie County
Martin County
Palm Beach County