My Walt Disney World entrance photo that can be seen on Flickr here, was featured on Realtor.com in this article covering Central Florida real estate. The article covers the current situation that the Central Florida real estate market is in due to the COVID economic situation. My photo is featured near the bottom of the article. A screenshot of the article from a mobile device can be seen below.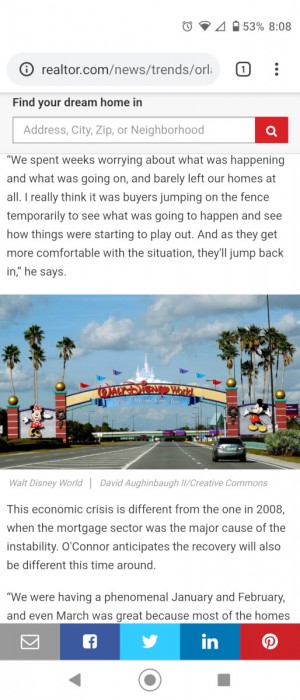 Above is a screenshot of the Realtor.com website with my photo featured on it.
It is great that the Realtor.com contributed decided to use my photo. If you do need photos for any type of project, please visit my Flickr account. All of my photos are Creative Commons Licensed and can be used for commerical purposes. All you have to do is to give me credit for the photo as described in the photo description.
On another note, the real estate situation here in Central Florida has featured low inventory with a rise in homebuilding in my area. That type of situaition is happen accross the country according to multiple reports by the financial news media. If you need help with real estate, I can also advise as I recently joined LoKation Real Estate here in Florida.