Lake Nona is a community that is located in the southeast portion of Orlando, Florida. The community is also located within the southern portion of Orange County Florida. Lake Nona was developed by the Tavistock Development Company, a subsidiary of the Tavistock Group. Tavistock created the community as a Master Planned Community. The area has multiple residential neighborhoods and commercial areas that include medical and research facilities.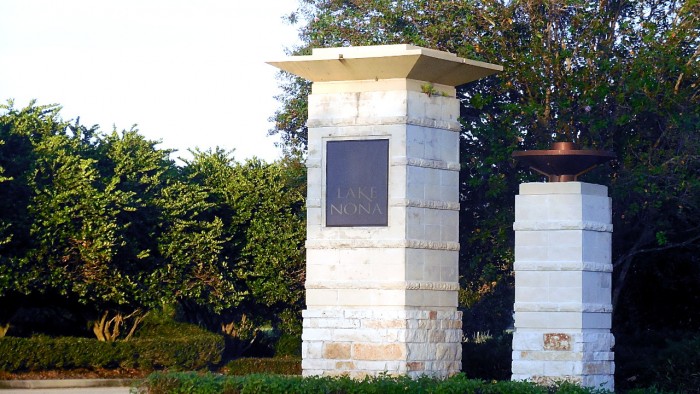 Above is a photo of a Lake Nona entrance post / landmark in Orlando, Florida on Narcoossee Rd.
Lake Nona Florida History and Background
Lake Nona was created by Tavistock Development Company sometime before 2000. The area has grown significantly since 2007. The overall area of Lake Nona encompasses 17 square miles or 10,880 acres. The community is situated around Lake Nona, an actual lake, and is to the west of Narcoossee Road. Lake Nona is also just to the southeast of Orlando International Airport (FAA: MCO / ICAO:KMCO). On the home page for the community, they use the slogan "Live Forward" to describe the region.
As part of its focus on "innovation", Lake Nona has its own telecommunications company, Dais. Dais provides high speed fiber-optic based internet connections to the local community. By using fiber-optics, the company is able to provide gigabit connection speeds.
Lake Nona has transformed into being a residential community with commercial areas. There are several developments that Tavistock has created in the area..
Lake Nona Communities - Neighborhoods
Lake Nona has multiple developments that make up the entire community. Most of the communities are actually developed by other home builders. You will find that new homes in the area are built by Pulte Homes, David Weekley Homes, Minto Communities, M/I Homes, Taylor Morrison, Ashton Woods Homes, and Beazer Homes (condominiums). Custom homes are also built in the Lake Nona Golf and Country Club.
The communities or neighborhoods that make up Lake Nona include Laureate Park, Somerset Park, Enclave at VillageWalk, VillageWalk, Lake Nona Golf & Country Club, Watercrest, Gatherings, and Waters Edge. There are also apartment neighborhoods that include the Watermark and Ariel apartments and Northlake Park.
CC&Rs, HOAs, RPOAs, ARCs, and CDDs
All communities in Lake Nona are governed by Covenants, Conditions and Restrictions (CC&Rs), Home Owners Associations or Residential Property Owners Associations (HOA/RPOA), and Architectural Control Committees (ACC). Most communities feature all of those listed items. Properties in many of the Lake Nona neighborhoods are also apart of Community Development Districts or Improvement Districts. These are districts that bill taxes to cover building and maintaining infrastructure in the area. The two main CDDs in the area are Myrtle Creek CDD and Greeneway CDD. Both are actually called improvement districts (IDs) and were created to service infrastructure projects in the region. The districts charge a yearly fee that is added to the property tax bill for homes located in one of the improvement districts
David can help with real estate in Lake Nona and the surrounding areas. Please feel free to contact him here.