This past week the markets got the news that the Federal Reserve does not plan to raise interest rates as they now want to remain patient. In addition, the Fed plans to end its balance sheet reduction program by September with gradual. Interest rates and the market have reacted in an interesting way to this news.
Interest Rates
The 10-year Treasury Note yield has continued its decline and now sits at 2.46 percent. The 13-week short term Treasury Bill yield has flattened and is not at 2.398 percent, which is very close to the yield of the 10-year. The 3 Month Treasury Bill saw its yield rise above the 10-year. That was one of the major events this week as this yield curve inversion is a bearish sign for the markets.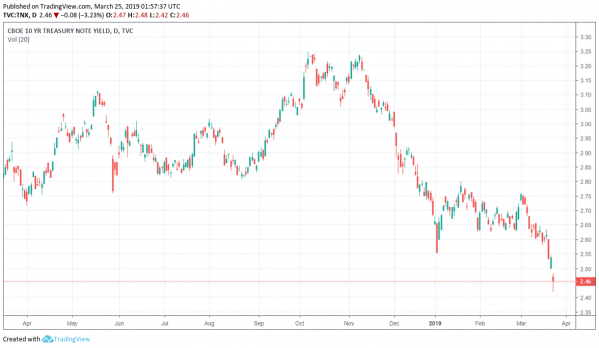 Above: an image of the 1 year chart for the 10 Year Treasury yield on 3/24/2019.
Stock Market
The stock market has reactive negatively to the changes in yields and interest rate expectations. The markets reacted positively to the news from the Federal Reserve; however, as the week went on the market headed lower. Right now, it remains to be seen if the declines will continue.
The future of interest rates for the year looks to be lower. Will the end of interest rates hikes keep the markets up? At this point, it does not look like it.