Today, the Federal Reserve's Federal Open Market Committee (FOMC) announced that it would raise the Federal Funds Rate by 50 basis points or 0.5 percent. The current Fed Funds rate stands at 0.33 percent. This move was widely anticipated by the markets. What was most important to the markets was the outlook that FOMC Chairman Jay Powell gave in his press conference. He mentioned that he believed that the Fed could manage a soft landing or a softish landing with its strategic interest rate increases and balance sheet reductions.

In my opinion, that soft landing comment sent markets soaring as investors believed that Chairman Powell indicated that he and the committee would not be as aggressive in ending their low interest and money printing policies.

Will the markets continue to go up in light of these developments? I believe it will be very tough for the overall markets to continue on the path it has been on since 2020. While the Federal Reserve continues on an interest rate and money reduction course, the markets will be challenged because of slowing money supply growth and the condition of the economy. Unlike the Fed Funds rate increases from 2017 to 2019, the economy is in a deteriorated condition due to the events of 2020 and 2021. Also, the Fed seems to be committed to staying on the path with rate increases because of the inflationary climate the US economy is in.

The brief rally in stocks may turn out to be short-lived as investors reevaluate the future of the economy.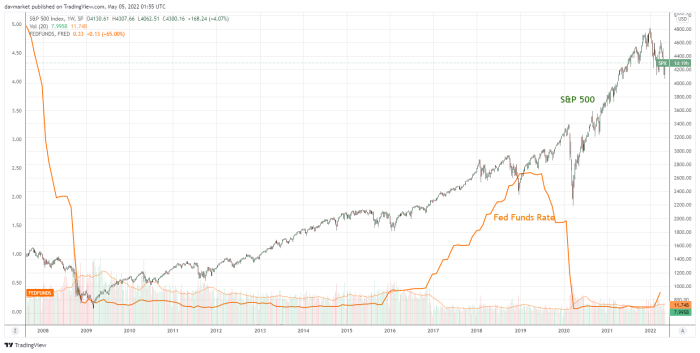 Above is a chart of the S&P 500 and the Fed Funds Rate going back to 2008