One of David's favorite industries is the aviation industry. Aviation has changed the way people connect with the world in a major way. Just think about the ability to fly from San Francisco to Orlando. You can get to Orlando in 5 hours 18 minutes on an Airbus A319 and pay only $85.20 USD, with one ultra low cost carrier (ULCC) (The airline actually only keeps $66.04)(November 2017). You can also buy your own aircraft and enjoy moving above the ground at high speeds.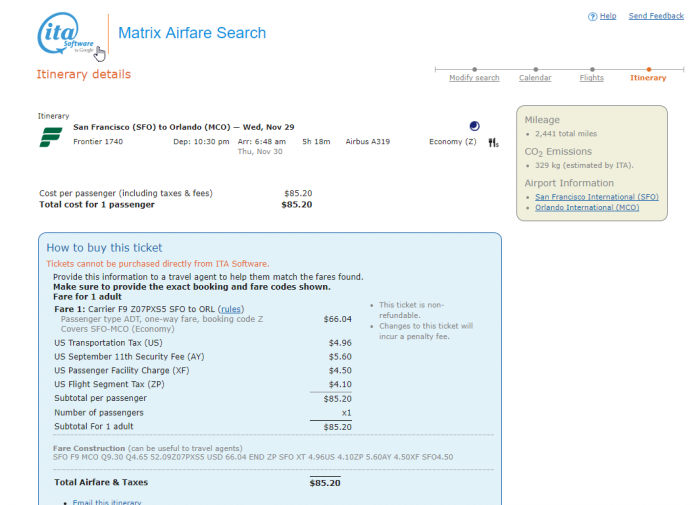 Above: Example of an $85.20 airplane ticket for $85.20 USD one-way San Francisco to Orlando. By ITA Software Matrix Airfare Search. Used under the fair use provision.
David's Involvement in Aviation
To help further improve access to information on the aviation industry David created FlyRadius.

FlyRadius provides detailed information on various aircraft. FlyRadius has coverage on commercial aircraft, like the Boeing 717-200 and the Bombardier Q400. Also covered are business aircraft like the Cessna Citation M2. You can visit FlyRadius' site here.

Above: Boeing 787-9 Test Flight (Landing) at Sacramento Mather Airport (ICAO: KMHR / FAA: MHR) by David Aughinbaugh II - FlyRadius

How David Can Help
David also looks to help improve the aviation industry by developing new products and services and improving the operations of aviation companies.
If you need help with aviation or your aviation business, please contact David.